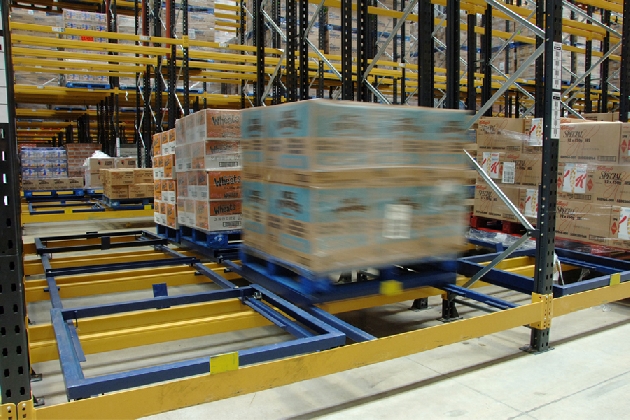 Push Back pallet racking is particularly suitable for bulk goods that can be stored on pallets according to the Last in – First out (LIFO) principle.
Special channels with wheeled conveyors or rollers sloping at approx 4degrees are integrated into one sub-frame of the P90 racking system. This system is sometimes known as dynamic pallet racking.
One after the other, up to ten pallets can be pushed into these channels and once a pallet is picked from the pick face, the rest roll forward automatically under a controlled speed. Individual pallets further back in the rack cannot be accessed directly.
Speedlock P90 Push Back racking can also be used to provide additional storage space in otherwise unusable areas such as above cross-aisles or around dock-levelers. When fully utilised, very high occupancy rates can be achieved, compared to drive-in racking or block-stacking.
Summary:
Pallet storage on sloping wheel/roller conveyors
Accessible by Last in – First out (LIFO) principle
Storage and removal from one side only
Up to 75% increase in storage capacity