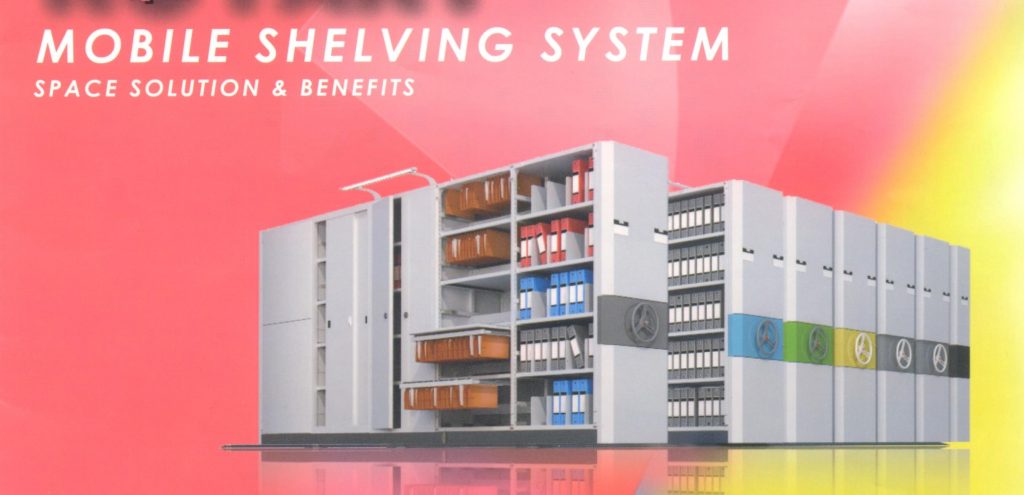 Mobile Shelving
Mobile shelving system gives the maximum density and requires only a single aisle for access
Speed lock  offers a complete range of Mobile shelving systems, Ranging from medium loads to a Heavy loads system.
Sign up for our newsletter here!!!
Oceans of virtually dust-free space are created by the ergonomically designed Constructor S90- mobile storage system. We will develop the perfect solution for your particular filing and storage situation, taking into account your specific needs and wishes.
The mobile storage system can be adapted to any construction and fitted around specific building constraints, such as pillars and ventilation shafts.
The drive system ensures effortless movement of the mobile system, regardless of the content or the number of racks.
Various locking devices help protect the contents of the mobile units from unauthorized access.
mobile shelving system is manufactured from pre-galvanized steel for the shelving while the mobiles are made of epoxy coated steel. The mobiles have casters guided by rails inlayed in the floor or the rails can be mounted directly on top of an existing floor. In spite of high loads, up to 15 tons, a row of shelving can easily be moved manually.
The large range of versatile accessories within the  Hi280 shelving system makes a compact installation easy to configure.
Electronic options are available for "touch control", a light finger touch of a button on a control panel opens the shelving up at he aisle required.
The Compactus® mobile shelving system is known for its very high degree of reliability and quality, due to its technical and service friendly design .
Compact storage installation in a warehouse can double the capacity of storage. This is the result of only requiring one aisle for access and the "eliminated" aisles are used for storage.
The maximal loading for one row of shelving when moving it manually is 40 tons. Equal to a block of 20 shelving bays loaded with 2000 kg per bay.
A row of shelving can be built from 1000 to 3000 mm in height and the depth from 300–500 mm. Loading capacity per shelf is from 75-400 kg. Steering and guiding of a compact store installation is done either manually or by a maneuver panel equipped with touch control. The aisles between the sections can be supplied with automatically switched-on lamps when the aisles are opened. The complete installation can be equipped with an accessibility system.